As if the news that I was selected as a
General Hospital Brand Ambassador
wasn't exciting enough, I was overjoyed to be informed that I was also chosen by
Mom Central
to be a Brand Ambassador for
The View
!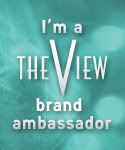 I have been watching The View since the days that Meredith Vieira and Star Jones co-hosted (remember them?). The "Hot Topics" portion of the show is my favorite and I love listening to each host's take on whatever is happening in the news.
Being conservative, Elizabeth Hassleback is my favorite co-host. I'm so glad she's on the show to represent conservative thought on political matters, and I often root her on when the debates get heated.
As with the General Hospital campaign, I will be posting news on the latest happenings on The View here once a week. You can also check out my
Twitter account
daily, as I'll be tweeting about the show there as well. And you can follow along in the discussion with other mom ambassadors and fans of The View with the Twitter hashtag
#theviewmoms
.
Of course, a contest would make things even more exciting, right?
Mom Central is hosting a contest for The View where one lucky winner will be randomly selected to receive a trip to New York City to watch a taping of the show!
The sweepstakes is open until February 28th. Click
here
to fill out the sign-up survey to be entered.
Disclosure: I am a participant in a Mom Central campaign for ABC Daytime and will receive a tote bag or other The View branded items to facilitate my review.