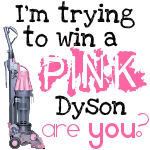 The Domestic Diva
is having an
awesome giveaway
on her site! You could win a gorgeous, $400
Pink Dyson Vacuum
in honor of
Breast Cancer Awareness
.
Dyson is donating $40 to breast cancer research for every pink vacuum that is sold. How awesome is that?!
You have no idea how much I want to win this one myself! My vacuum sucks....or doesn't suck actually....that's the problem. And I LOVE pink. And breast cancer awareness is a cause that means a lot to me as I lost my aunt to the disease several years ago (she was very young).
Since Dyson is known for making vacuums that don't lose suction, this one is right up my alley!
If you would like to enter as well (and why wouldn't you?), head on over to
the contest post
right away! Deadline to enter is the end of October and the winner will be drawn on November 1.