Note: This post will stay at the top of this site for the next few days. Scroll down for newer entries. Keep an eye out for a very special Mother's Day giveaway that will appear here on Tuesday. Thanks!
Did any of you catch
Tom Cruise's interview on Oprah
? How about the adorable lady bug shoes that Tom said were Suri's favorite?
Well, guess what? Now YOUR baby can win the EXACT same pair from the VERY SAME store that Suri's shoes came from!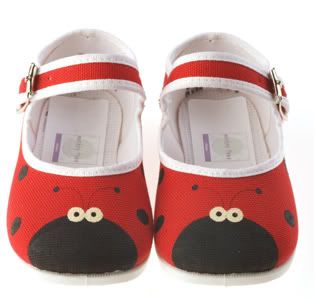 I am proud to say that my blogging buddy Katja owns the store,
Skimbaco
, that Suri's shoes were bought at!
Here's the scoop: Katja's friend is close friends with the Cruise/Holmes family (Tom, Katie and Suri) and came to Katja for help in putting together a gift basket for them. The basket was filled with the most luxurious and popular goodies from Katja's boutique Skimbaco.
Katie received
several gifts
, and Suri received even more! The whole family received
Blume
Girl personalized products and
DeAnna Cochran
designer jewelry.
Little did Katja realize that one of the gifts, the
Monkey-Toes Little Ladies ladybug maryjanes
, would become "Suri's favorite" according to Tom Cruise. The shoes got a close-up on the Oprah show as Tom touted them!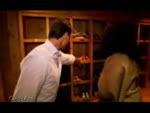 Click
here
to see the video (the shoes are shown at the 1:38 mark).
Now these shoes are the talk of the town and a must-have for hip babies everywhere!
Want to win a pair for the little girl in your life?
Simply visit
Skimbaco
and take a look around at all the fabulous products they have to offer. Then leave a comment here letting me know what your favorite Skimbaco product is.
For a bonus entry
, link to
this contest
and tell your readers that Suri loves her ladybug shoes from
Skimbaco
(please link to Skimbaco as well). Leave me a
separate
comment with the url of your post so I can be sure to give you credit for a bonus entry.
Deadline to enter is 11:59 PM on Sunday, May 11. Winner will be selected at random using random.org and announced on Monday, May 12. Good luck! :)